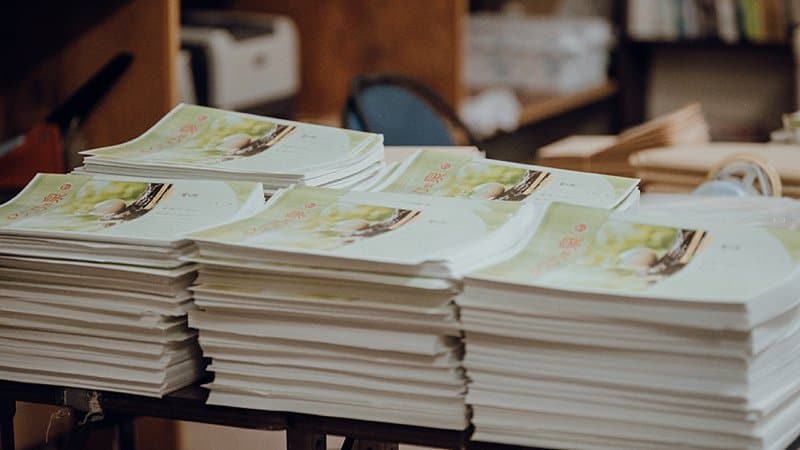 Bibles & Literature Ministry:
Many Bibles, Gospels of John and thousands of pieces of Christian literature are distributed monthly by members of the Japan Mission. It is estimated that over 20 million pieces of literature have been distributed by the Mission thus far.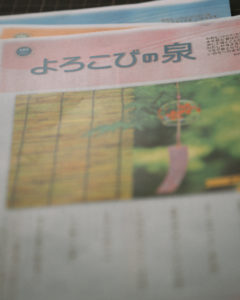 One exciting outreach that JM continues to be involved in is the publication of a Japanese evangelistic leaflet (tract) called the Yorokobi no Izumi (Fountain of Joy). A team of writers, illustrators and office personnel continue to be busily at work to make this monthly publication possible. About 24,000 of these attractive and colorful tracts are printed and distributed to about 1,000 locations across Japan, as well as overseas.
Select the following links to read the inspiring testimonies of those who help us publish this tract each month:
Mr. Tamada – Writer
Mrs. Tamada – Contributor & Editor (PDF)
Mr. Kodama – Writer (PDF)
Because these tracts are sent throughout Japan, it enables JM workers to make contact with many. As JM workers arrived in Kumamoto (500 km or 300 miles away), they were able to visit some who receive this monthly tract. One non-Christian lady Alex Verwey was able to visit was Mrs. Yamada, whose relatives had arranged for her to receive this tract for many years. She welcomed him with big smiles. They were able to pray with her and urged her to attend a local church. Alex was encouraged, saying, "Immediately after I had prayed with her she said, 'Thank you, I received your prayer in my heart.'" Pray for Mrs. Yamada as we continue to make contact with her and send her this Gospel tract.
Give a copy of this tract to a Japanese friend.
Click here to view a sample of the Yorokobi No Izumi.
E-mail us with your address for a free sample:  jm@japanmission.org
Evangelistic Series of Books – Ikirutowa
The Japan Mission has published and made available to the Christian community an evangelistic series of books called 'Ikirutowa'. These books feature testimonies of individuals who have found the Lord as Savior. These books have been very instrumental in the salvation of people who are seeking the Lord.
Give a copy of this book to a Japanese friend.
E-mail us to find out more about this publication:  jm@japanmission.org
Bibles For China
One of the ministries Japan Mission continues to be involved in is the printing and distribution of Bibles in China. We recently received a number of updates about the situation in China.
The number of Christians in China is on the increase. Just months ago, the mainstream media reported that "China was on course to become the world's most Christian country within 15 years." What an incredible statement!
Over the past 60 years, China has seen some of the most brutal and systematic persecution of Christians. Countless followers of Jesus have been beaten, imprisoned and suffered all kinds of terrible consequences for their faith. Many have spent years in inhumane labor camps and prisons, and many thousands have died as martyrs.
Today, the situation is better. China is changing. Government-orchestrated persecution of Christians is decreasing, although it still persists – especially in rural areas away from the public eye where local governments are becoming increasingly wary of Christians gathering and declaring their allegiance — not to the Communist Party, but to the Cross.
So what about the need for Bibles? Many say that the government allows Bibles to be printed and there is no need to deliver them from the outside. This is unfortunately not the case. Even today, Chinese Bibles can only be legally printed at one printing plant, and this is for 1.3 billion people! The government decides the amount that can be produced as well as how they are distributed. They are only for sale in selected, registered churches and not in bookstores. In most places, there are severe restrictions and believers can only buy limited quantities.
We have received reports of some printing companies in China that print poor quality Chinese Bibles for the black market. They operate under the constant threat of being shut down and prosecuted. We believe that there are millions of believers who do not have access to God's Word.
A reputable Christian, who knows China better than most, recently wrote the following: "While the economy is growing in many parts of China, all Bibles printed outside the control of the government-approved church are considered illegal. Those involved with their production or distribution, continue to risk arrest and imprisonment without trial. Despite the economic boom in other parts of China, people in rural farming communities remain extremely poor, and their plight has been exacerbated by the soaring cost of living. Millions of house-church Christians remain unable to afford Bibles, even if they were able to access them. These factors have resulted in millions of believers being starved of God's Word. They are forced to survive on the few crumbs they are able to gather from beneath the table of the registered churches."
One of our affiliates recently wrote: "We continue to receive more requests for Bibles than what we are able to meet and continue to hear of the tremendous value of each and every copy of God's Word being sent to those who need it. We have recently completed the printing of 50,000 regular Bibles and need to order paper and print another 100,000 copies. One full Bible costs US$2.50."
Pray for the necessary funds to make Bibles available to the many that hunger for the Word of God in China. Pray for wisdom and protection for the intricate network of printers, distributors and couriers who are involved in a process, which is at times very dangerous. Pray for those who are being persecuted for their faith.
CHINA – A THIRTEEN-DAY OLD BELIEVER IN ACTION
Although our main burden is for Japan, we cannot help but also carry a burden for the struggling church in China. We are deeply moved by some reports.
One young man, only 21 years old, was converted. A gifted speaker, he immediately began to travel around telling others about Jesus. Only thirteen days after his conversion, he had already brought a group of converts to know his Savior and these people considered him to be their spiritual leader. He appointed some of them to be his co-workers, and these converts went around teaching also. Eleven days later, one of them got other people together in another village and formed a church. Just a few days later, some of his converts also began to teach others.
So, there was a 13-day old believer, discipling a 11-day old believer, who then discipled a flock of new-born believers.
This is tremendously exciting, but also a problem which can well be dangerous for the Gospel. They know so little about God, being so young in the faith. Such people need Bibles.
As our funds allow it, we do everything we can to put Bibles and literature in to the hands of such people to help them grow in their faith and ministry.