Back to Team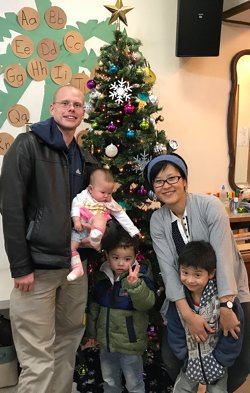 Alex & Eri Verwey
Office Work & English Evangelism Outreach
Hi-resolution of Alex & Eri photo here.
Alex grew up as a missionary kid in Japan, and married Eri from Kyoto, Japan in 2008. After a number of years living in the USA and working in business, Alex and Eri joined Japan Mission in 2013.
Alex recently wrote, "For years, Eri and I have been seeking the Lord's direction for our lives. We knew that He wanted us to serve Him and share His love with others, but didn't want to assume it was with Japan Mission. We believe God has His timing and place for every organization, and we would only want to serve with JM if we have been called by Him.

"As we sought the Lord in 2013 He has clearly shown us that we can make the most impact on other's lives for Christ by serving Him at JM. The Lord has begun a work through my Grandfather (Neil Verwey) but we feel there is more to come. We give ourselves fully to God as we look forward in anticipation to the great things He has in store for Japan."

Alex and Eri have three children, William (2012), Joseph (2014) and Naoko (2017) and are both actively involved in outreach to families. Alex is also busy with administration as the Lord continues to do great things with English evangelism, Media, Literature, Short-term outreach and the many other areas of church support.
Pray that the Lord would bless their efforts as they strive to serve the Lord and reach out to many people and work with the JM team to support churches across Japan.