Back to Team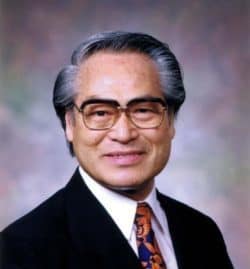 Dr. Kiichi Ariga
Evangelist
The Lord called Dr. Kiichi Ariga to become a full-time evangelist. He now goes around proclaiming the cure for Japan: 1) Repentance, 2) Reconciliation, 3) Revival.
One of his ministries is that of reconciliation. After WWII, many people in the USA, Canada, Australia and the UK had bitter feelings towards the Japanese. When Dr. Ariga visits these countries, he often starts by bowing deeply on his hands and knees while on stage while saying, "I want to repent from the bottom of my heart for what the Japanese people have done. Please forgive us for what we have done to your people!" Many are moved to tears by his sincere apology and start to pray for the salvation of souls in Japan, as their hearts are also healed.
Dr. Ariga recently shared, "I was invited for the first time to minister in Kwangjin city in South Korea. There were faithful brothers present who have worked with tears, sweat and even blood to help bring about reconciliation with North Korea. As a Japanese, I repented of how Japan ruled Korea and brought Emperor and Shinto worship by force, totally denied the Living God. I was deeply moved to see how these brothers were caring for those who escaped North Korea with the unspeakable love of God. What a witness of humility and love!"
Dr. Kiichi Ariga has been a dear friend of Japan Mission for many years. He has spoken at some of our evangelistic events and we have supported his ministry for the past 50 years.
Pray that the Lord would bless and strengthen Dr. Ariga, who is still going strong and maintains a busy schedule of meetings and lectures at age 84!
Read the moving testimony of Dr. Kiichi Ariga by selecting the following:
Part 1 – The Gods Were Silent (pdf)
Part 2 – God Was Not Silent (pdf)