Back to Team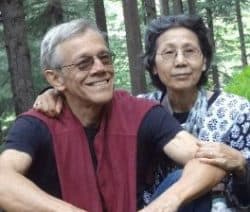 HL & Keiko Wyatt
Evangelism & Counseling
While serving with Japan Mission, Keiko was clearly guided to minister to the poor and decided to attend seminary. One month before graduation, a team of Christian workers visited Japan, while on their way to the USA from Pakistan. When they heard of Keiko's calling, they discussed the matter and decided to make plans to send Keiko as part of a team to Pakistan.
Read the inspiring testimony of HL & Keiko Wyatt by selecting this link (pdf).
After receiving more training, she entered Pakistan in 1988. She studied the Urdu language while teaching flower arranging at the Japanese Consulate. She formed good relationships with many of the Baloch people, and started teaching English in a village. As a single woman, she faced many difficulties in this Islamic country, but she was able to share Christ and pray with many.
It was in Karachi where Keiko first met Horace (HL) and some coworkers who were reaching out to the Baloch people. HL was a dedicated and well qualified Christian worker from the USA, with a background in cardiovascular physiology. He first entered Pakistan in 1984 and was a professor of physiology at a medical college in Karachi. Three years after they first met, God led HL and Keiko to commit to one another in marriage in February 1992. HL and Keiko then shifted their work to Quetta for 19 years, where they were able to reach many for Christ.
In 2010, it became more dangerous to work in Pakistan, and thus the Lord led HL and Keiko to move to Delhi, India. As they made this change, they sensed a continuity in their ministry, since they were soon working with Afghan refugees as they had in Pakistan. The Afghan refugees have been very responsive to the Gospel.
HL disciples the believers and teaches them the Bible. Keiko teaches the women Bible and literacy. Most of the women are illiterate, because the Muslim influence prohibits the education of women. Keiko says, "It is exciting to see women read the Scriptures for the first time in their lives!" Many return to Afghanistan because they find life in Delhi very expensive and they are not able to immigrate to another country. Pray that the Lord will provide for, and work through the ethnic Christians who return to Afghanistan.
HL and Keiko are also involved with work in an orphanage and among poor Indians in the slum areas of Delhi. Keiko helps HL with his Chronic Disease Prevention work among Christian workers and middle class Indians because many suffer from diabetes and heart disease.
Japan Mission has supported and partnered with HL and Keiko over many years to reach people for Christ in Pakistan and India. Pray that the Lord would continue to bless, lead and protect them in this vital ministry.