Back to Team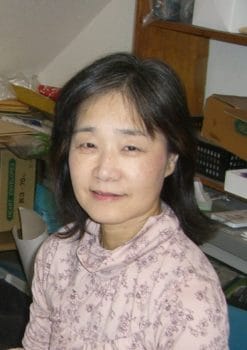 Ikuko Takemori
Mrs. Ikuko Takemori started working for Japan Mission in 1985. She has been a valuable worker over the years. She plays a vital role in the office and helps us to evangelize and counsel many. She also helps us handle much of the important Japanese correspondence.
Please pray that the Lord would continue to use Mrs.  Takemori to reach many for the Lord. Please continue to pray for wisdom, strength and protection.
Read the following interesting testimony of Mrs. Takemori:
CHOOSING GOD AS GO-BETWEEN – Testimony
"Don't be afraid of religion! There is good teaching in all of them. One should seek out the good in every belief!" Such was the advice of their father, Mr. Yamaguchi, when he discussed religion with Ikuko and her three sisters. He also warned them never to become fanatical!
"You need Tenrikyo (religion of heaven and earth) for your moral standards in life," their mother added. "When you get married you need the Shinto rites (the way of the gods). When you get old and die, Buddhism is essential to take care of you in the afterlife."
While walking home from school one day, Ikuko (at age 11), saw a poster advertising a Sunday School gathering. Why not try Christianity, she thought. She started to attend Sunday School and especially liked the fun songs and the interesting stories that the Sunday School teacher told. Ikuko's parents were quite happy for her to attend every week and later on she became a church member!
After High School, Ikuko studied pre-school education and then started to work at an orphanage. However, every night, when she returned home to the quietness of her bedroom, she was overwhelmed by feelings of loneliness. Her loneliness was accentuated when, within a short period, her two older sisters had marriages arranged for them and her other sister eloped. She felt utterly abandoned!
In the solitude of her bedroom, she sought Jesus. He became precious to her and the Word of God comforted her. My grace is sufficient for you, for my power is made perfect in weakness (2 Cor. 12:9, NIV).
When she was seventeen, she became a follower of Christ and attended church regularly. However, she still lacked assurance that He had forgiven all of her past wrongdoings. She tried to live a good life, but felt so dreadfully impure when she thought of the holiness of God.
One day in her daily Bible reading she came across Isaiah 1:18. "Come now, let us reason together," says the LORD. "Though your sins are like scarlet, they shall be as white as snow; though they are red as crimson, they shall be like wool." Her heart was filled with peace and an assurance that He had wiped her slate clean and forgave her – turning her filthy, red sins as pure as freshly fallen snow and whiter than the whitest wool!
While working at the orphanage, Ikuko heard of Japan Mission's need for an office worker and joined the staff of Japan Mission in 1985. She felt fulfilled as she started to play a vital role in counselling, evangelizing and handling much of the important Japanese correspondence.
Two years after Ikuko joined Japan Mission, Mr. Sato, the Mission's senior evangelist, had a private talk with her. "Ikuko, I believe it is time for you to consider marriage," he said. "I know a keen Christian young man in a distant church who is just about your age and is looking for a bride. I would like you to pray about it and consider getting married to him."
She admitted that she had prayed for a suitable husband for quite a long time. Her family had several young men lined up for her to choose from, but to marry a non-Christian was unthinkable! She politely refused even to have a face-to-face meeting with them.
Mr. Sato produced a picture of Koichiro Takemori, the prospective bridegroom and as she scrutinized it, she thought that he looked quite handsome! With deep interest, she read and reread his resume, but many doubts and fears filled her heart. It was such a life-changing step to take! She told Mr. Sato that she could not go through with the suggestion, but promised that she would continue to pray about the matter.
After a while, she realized that God had answered a prayer that she voiced to Him many times. She asked Mr. Sato, the go-between, to proceed to the next step – to arrange an "omiai" ("a formal introduction").
At that "omiai" they shyly talked it over. At a later meeting, the families got involved and gave their permission to go ahead with the arrangements. Soon after, in October 1987, Ikuko Yamaguchi became Mrs. Takemori.
It came as a shock in 2002, when she was diagnosed with stomach cancer. After surgery and a short time of treatment, she returned to work with renewed strength. Please pray that the Lord would continue to bless and protect Ikuko as she continues her vital work with Japan Mission.
Mr. Takemori is a faithful Christian who is working for a local company that manufactures rubber belts of all kinds. Please pray for him as he strives to be a witness to the many non-Christians he meets each day.
"It was so worthwhile to wait for God's timing and choice!" Mrs. Takemori said. "I shudder when I think of what could have happened if I had agreed to marry one of those unsaved men that my parents wanted to introduce me to! Now the two of us and our parents are happy. God's way is always best!"