Back to Team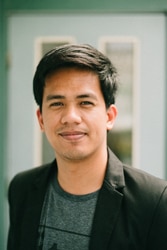 Mark Bercero
Mark Bercero joined Japan Mission from the Philippines as an English Evangelism Teacher in February 2018. He now travels to a number of churches to serve as an English Teacher, to help those churches reach their communities for Christ. Many, who would not normally attend church, come to learn English and make friends with a foreigner. Each class ends with a Bible Time and a time of discussion and fellowship.
Mark's story: "I'm a Filipino, born and raised in the Philippines. I grew up in church and I went to a Christian school. I did well in school – joined clubs, participated in many activities in school and church.
My life then basically revolved around school, church and home. I was just like any other growing boy who sometimes or maybe most of the time picked fights with siblings and friends.
If there's one thing a bit different in my life, compared to most Filipino families, is that growing up, I didn't see my parents very often. My mother started working overseas when we were still young, and my father came home from work in the evening and didn't really have time to spend with us after a long and tiring day of work.
This set up was tough for me. Most of my teenage years were spent without my parents' supervision. Things got worse when they decided to live separates lives. Those years were tough. Thankful for His grace, I made it through.
Everything is orchestrated by an all-powerful and loving Father and most of the time He allows situations that draw us closer to Him.
I've been very active in church and participated in various ministries. My desires changed and stirred in me a burden to help out in what the Lord has been doing in Japan. I started looking for any opportunity to do missions in Japan and came across Japan Mission. I applied and everything else is history.
Being a missionary in Japan is both challenging and a blessing. My first few months in Japan made me realize that how I represent Christ as a loving, gracious, all-powerful, and all-knowing God is vital in winning the Japanese. I have to walk the talk.
God loves the Japanese; I firmly believe that. This journey may have just started but if God is for me then who can be against me? I refuse to believe that Japan is the graveyard for missionaries, what I believe though is that I serve a living God who is able."
Now to him who is able to do far more abundantly than all that we ask or think, according to the power at work within us,  to him be glory in the church and in Christ Jesus throughout all generations, forever and ever. Amen! -Ephesians 3:20-21
Please pray for wisdom and protection as Mark has numerous opportunities to reach many students with the Gospel.
Contact Mark Bercero by e-mail at:  jm@japanmission.org