Back to Team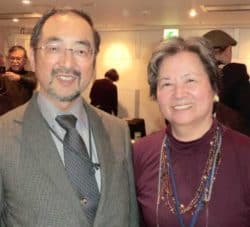 Mr. & Mrs. Takahara
Mr. and Mrs. Takahara were both saved through the JM Hospital Evangelism Ministry and joined JM — he in 1964 and she in 1968. They were later married in 1973 and felt a burden to communicate the Gospel through audio-visual media. Because of their vision, many thousands of Christian DVDs, CDs and other media have been distributed over the years throughout Japan.
Read the inspiring testimonies of Yukio and Keiko Takahara by selecting the following links:
Yukio Takahara – The Greatest Friend (PFD File)
Keiko Takahara – The Howling Winds (PDF File)
Origins is a 6-part DVD series that makes a powerful case for Creation vs. Evolution. One man sent us a postcard saying, "Thank you! I now believe in the miracle of creation. This explanation made it so much easier for me to embrace Christianity." Educating the desperately lost and hopeless has led to the salvation of many who seek to know the truth.
Mr. Takahara leads workshops and seminars to train Christian workers to use audio-visual media to communicate the Gospel effectively. He also preaches at evangelistic meetings and lectures at Bible Colleges.
The Hollywood movie Noah, released in 2014, made a big impact in Japan. The inaccurate depiction of the story of Noah was not helpful. However, this movie helped to create an awareness in the minds of many Japanese — that the building of the ark and the flood were indeed historical events. It helped raise interest and curiosity concerning the true story of Noah.
Mr. Takahara recently seized on this opportunity and spent many hours studying Noah's ark. He built a 1/150 scale model of the ark (mostly from cardboard), as recorded in the Bible. This ark was designed to come apart – one floor at a time – revealing how Mr. Takaraha imagined the inner-workings to be. The story of the ark comes alive as he explains where a vegetable garden might have been cultivated and points to a small pulley and rope with a bucket to show how water might have been drawn up to the different levels of the massive structure.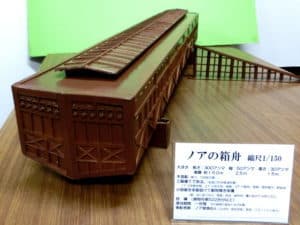 Armed with a folder of details and facts, Mr. Takahara now travels to many places to explain the story of Noah's Ark to non-Christians, Sunday School students and interested Christians. Educating people about the truths of the Bible is a critical part of his ministry and helps to open eyes to God's Truth.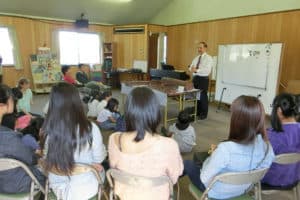 Mrs. Takahara continues to help her husband with the audio-visual work, speak at ladies meetings and counsel people. She is also the official JM representative who deals with important legal matters, such as taxation and religious incorporation.
Pray for protection, wisdom and guidance for Mr. and Mrs. Takahara. Pray that the Audio-Visual Department would continue to be effective in meeting the needs of the small churches of Japan.