Back to Team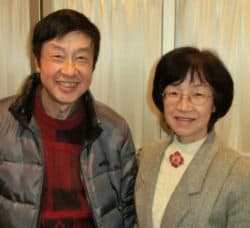 Mr. & Mrs. Tamada
Writer & Editor
Mr. and Mrs. Tamada continue to help Japan Mission with the writing and editing of the Fountain of Joy – a monthly evangelistic tract.
Select the following link to read the inspiring testimony of Mrs. Yoko Tamada, who helps edit this tract each month:
Mrs. Tamada – Contributor & Editor (PDF)
Mr. Koji Tamada graduated from Bible School and served for many years as a Hospital Evangelist with Japan Mission. He is currently a minister of a church in Kyoto and helps the Japan Mission as a writer.
TESTIMONY OF KOJI TAMADA
Mr. Koji Tamada was in very poor health when he was born in 1948. He was often pale, moved slowly and lacked the strength to play like other children.
When he started school, doctors discovered that he had been born with a serious heart condition. To make matters worse, he contracted measles and whooping cough, which caused further deterioration. He sometimes turned blue and found it difficult to breathe. No one expected him to survive very long. In spite of his fragile health, at the age of seven he enrolled in the local grade school. Little Koji was often absent for many weeks during the winter, due to severe colds and pneumonia. Keeping up with his studies was very challenging, but unusual determination kept him going.
When he entered middle school, he contracted tuberculosis. He was admitted to a children's ward and spent the next 15 years of his life lying in hospital beds! He felt depressed and doomed to a life of confinement and suffering. One day when the sadness seemed overwhelming, he strummed his guitar in order to lift his spirits as he usually did.
"Ojoozu desu ne!" (You play very well!), he heard the cheerful voice of a lady entering the room. He first thought it was one of the nurses, but it was Miss Okamoto, a hospital evangelist from Japan Mission, making her rounds in the children's ward. It was his first contact with Christianity. Fellow patients regarded his guitar playing a nuisance, but her encouraging words felt to him like cherry blossoms suddenly blooming in a godforsaken place!
"Could I sing something for you?" she asked with a smile. As she sang, "Jesus loves me, this I know; For the Bible tells me so," the other children in the ward began to gather around to listen. Since then they all looked forward to her encouraging weekly visits, and some even ventured to sing with Miss Okamoto, "Little ones to Him belong; They are weak, but He is strong."
When Koji finally left the children's ward, it was a sad 'graduation' because rather than leaving the hospital like his other overjoyed friends, he simply entered an adult ward in a hospital where he knew no one. The doctors told him that his heart condition would likely be with him for the rest of his life. He faced many dreary days; but one day, while staring at the ceiling and overwhelmed by morbid thoughts of death, the monotony was broken when a stranger came to visit him.
"I am Karasawa from the Japan Mission. Miss Okamoto told me about you and I would like to be your friend," the man said. Why someone would seek such a miserable creature like himself out for friendship he could not fathom, but it was about to change his life!
Koji felt this was someone he could talk to about his constant fear of the gods, and the severe punishment they had measured out to him! He freely told the evangelists about the dark thoughts of his heart, fear of death and the horrible nightmares he endured.
Since then, Mr. Karasawa came weekly to share with him the wonderful message of hope and life! He heard the incredible story of the resurrection of Jesus Christ. How could this be? All the gods he knew seemed dead, not having the slightest prospect of life and resurrection.
The day Mr. Karasawa read Matthew 10:29-31 to him was an eye-opening experience. Aren't two sparrows sold for only a penny? But not one of them falls to the ground without your Father knowing it. He even counts every hair on your head! So don't be afraid. You are worth more than many sparrows.
This promise of God remained in his heart day and night. To think that the Almighty God who cares for the universe, with his infinite love, stoops down to pay attention to him, a mere speck of dust in the vast creation! It was impossible for him to comprehend such a marvel!
Mr. Karasawa visited him regularly and Koji spent hours reading the Bible to get to know God better. Soon he surrendered his life to Christ. At twenty-two years old, Koji was still a hospital patient, but there was a different look on his face. He had the joy of the Lord in his heart! He knew that God would take care of him no matter what the circumstances.
When he confessed his wrongdoings and selfishness, begging for God's forgiveness, the Holy Spirit brought many things to his mind that he had to put right! A long time ago, Koji had stolen stamps from a fellow patient. He could not dismiss it from his mind until he wrote a letter to apologize for his despicable actions.
This former patient was so impressed by the genuineness of Koji's letter that he visited him and was introduced to Koji's Savior and Lord. As he witnessed to others of the wonderful miracle that God had done in his heart, he was filled with joy, even while still sick and in a boring hospital! He brought out his people with rejoicing, his chosen ones with shouts of joy! Psalm 105:43
At the age of 23, he began to see God answering his prayers for physical healing. One after the other, the x-rays revealed great improvement in the condition of his lungs. After a further lengthy period of recovery of 2 years, the doctor declared that he was free of tuberculosis! They could now perform the very difficult and complicated heart surgery that Koji so desperately needed.
In 1971, the night before his operation, evangelist Karasawa visited him and read to him Deut. 33:27, The eternal God is your refuge, And underneath are the everlasting arms …
The operation was long and difficult and when he began to wake up, the nurse quickly called the doctor. Koji was still on oxygen, but the doctor took his hand and showed it to him. "Do you see your hand?" The doctor asked Koji. "It is no longer pale, but full of color because your heart is now pumping blood through your system!
For the first time in his life, he had normal blood circulation. With his lips glowing red, he began shouting praises to God! For 15 years, he could hardly walk or climb stairs. The slightest breeze on his body would cause him to shiver. Many miracles seem to happen all at once in his body. Even water tasted better than it ever had before!
While in hospital he learned to believe in the enabling power of Christ! I can do everything by the power of Christ. He gives me strength (Phil 4:13, NIRV).
Mr. Koji Tamada later graduated from Bible School and served for many years as a Hospital Evangelist with Japan Mission. He is currently a minister of a church in Kyoto and helps the Japan Mission by writing testimonies for Fountain of Joy tract. Please pray for him, his wife and son, as they strive to reach many for the Lord.