Back to Team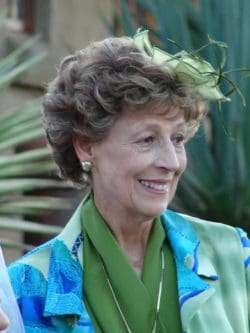 Sunette Hugo
Office Work & English Evangelism Outreach
Sunette Hugo is from South Africa and joined JM in February 2007. She says, "It is mind-boggling how the Lord, through the years and without me realizing it, prepared, equipped and eventually guided me to work with the Japan Mission!"
Read the inspiring testimony of Sunette Hugo by selecting this link (PDF File).
Sunette is dedicated to her diversified work at the Japan Mission:
David Verwey writes a short e-mail about some aspect of Japanese life from a Christian perspective. Sunette helps with the creative content, writing, editing and translation of these e-mails. About 3,000 of these e-mails are sent out twice a month to all parts of the world. Pray that they will be a blessing to those who receive them.
A lot of supporters live in South Africa and Sunette helps with the correspondence to those whose first language is Afrikaans. She is a vital link in the process of thanking people for their gifts and keeping them up-to-date with information for prayer. Pray that these letters would be a blessing and inspire people to pray for the work in Japan.
As an English Evangelism teacher she teaches English at a church in Osaka. Each lesson concludes with a Bible Time where a short message is shared in Japanese.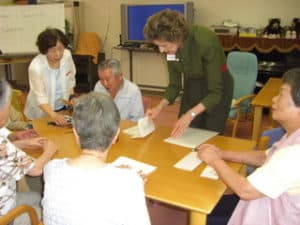 In response to a request from a local Retirement Home, Sunette teaches a group of elderly people English Conversation as part of their occupational therapy. Sunette sees this as a great opportunity to reach out to the elderly. Mrs. Fukunaga assists her by concluding each session with a Bible Time and sharing a short message in Japanese.
Sunette helps with the processing and distribution of 27,000 Yorokobin no Izumi (Fountain of Joy Tract – a monthly tract published by JM that contains a salvation testimony).
Sunette also teaches Sunday School at the church where she attends. Pray that she would be effective in teaching and communicating the truths of the Scripture to the students.
Pray for Sunette's protection, strength and health. Pray that he would be a blessing to the  many people she comes in contact with.
Contact Sunette by e-mail at: jm@japanmission.org
(Please insert her name in the subject line to ensure she receives the e-mail)